If you have a paver sidewalk or patio at your home chances are there are some pavers which have become a bit lower than the rest in some areas. This is just an inevitable occurance and fortunately fixing sunken pavers is not very hard.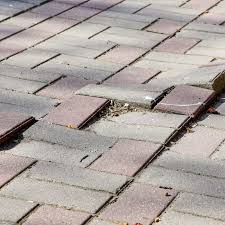 Just as concrete settles and cracks, pavers also fall victim to the natural movement of the earth beneath them. The difference is that the paver problem is alot easier to fix. In short order the offending pavers may be removed, the supporting base materials added to and modified and the pavers recompacted into place for a nearly invisible repair.
So you do not have to live with these depressing depressed spots in your patio and sidewalk. Many of these repairs can be accomplished in a single day. Give me a call or drop me a line in the comments below. I would love to get you an estimate for getting your paver project looking like new again.
Remember fixing sunken pavers is an easy task so it is not going to cost you a fortune. if you have an upcoming event and would like to get your outdoor spaces looking great please give me a call.